Since the pandemic began, we all have experienced the pleasures and pains of remote working. Fully remote jobs have become so increasingly popular with job seekers that some of them are even willing to pay for job boards that only allow fully remote job postings.
However, some companies are still stuck in another century. They don't embrace the remote workplace.
Stuck in the office space of 1999
Recently, I visited one of my French clients, a Grenoble-based tech startup. When I asked them about their hiring plans for 2022, I received a surprising answer: "We can't hire more than 2 people this year because we are running out of office space."
The phrase "office space" immediately made me think of the eponymous movie. It also sounded like something someone would have said in 1999 (the year in which the movie was released). Ironically, most of the company's staff could probably do their job from home just fine.
How many people like working fully remotely?
We all know that a lot of people prefer working remotely for various reasons. We may not be aware of how many people actually prefer to do so on a permanent basis.
In January 2022, we asked 128 professionals (mainly white-collar workers located in Europe) via a Linkedin poll where they would like to work from. Only 10% answered that they would like to work mostly from the office.
A hybrid setup (half the time onsite, half the time remote) is preferred by 46%, and, finally, 44% want to work fully remote. This has evolved from research performed by McKinsey a year ago, finding more people are comfortable with remote work than previously.
It looks like my Grenoble-based friends may soon have another problem: They may not only run out of office space but of people to hire.
Result from Linkedin poll as of Jan 13, 2022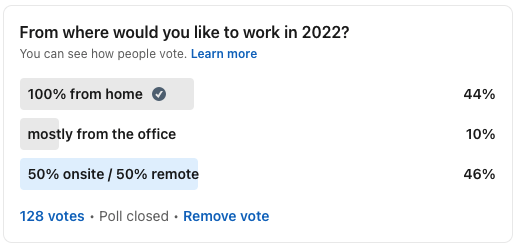 Updated numbers – 2023
58% of the American workforce have the opportunity to work remotely
Productivity in remote work has increased by 47%
By 2025, 70% of the US workforce will be working remotely
Comparing remote jobs and hiring to traditional setups
At madewithlove, we are currently looking for a senior developer with a rather exotic tech stack for one of our clients. Senior developers are hard to find, especially when the requirements include rare technologies.
Yet the CEO insists that they must be based in the same country and has already refused good applicants from other European countries. The kicker? They are not even expected to come to the office!
Another client decided that they needed an operations manager on Tuesday, published the ad on Wednesday, and hired on Friday. They had extensive requirements but no geographical limits. The difference in options is baffling.
8 times more applicants for a remote job
One may raise the objection that different specifications lead to different outcomes, but we also have a recent example of 2 almost identical roles which we recently published on our career page with the main difference being the workplace setup: remote versus hybrid.
Both clients are startups with fewer than 25 employees that offer a B2B SaaS solution. Both openings were for Senior React Frontend Developer roles.
Yet, the remote job posting received 75 applications (and was filled fairly quickly), whereas the one with the hybrid setup only received 9 submissions. Eight times more applicants!
Among the 9 applicants for the hybrid role were 6 people who applied from abroad as they had not understood that they would need to come to the office twice per week. Two applicants were young graduates, and the one who finally met the requirements left the process before actually meeting the client. So in the end, the company had no qualified candidates.
The remote position was coincidentally filled with a local candidate (living in the same country as our client) who simply does not like going to the office.
This experience shows that you can also attract more local talent thanks to a remote-friendly workplace.
The bottleneck of talent
Already in 2018, there were 5 open positions for each software engineer in the US. And for the 50.000 new graduates, there were 500.000 open positions.
For various European countries, the second quarter of 2021 marked the highest ever recorded number of unfilled vacancies; the United Kingdom topped 1 million open vacancies for the first time ever.
If some of these openings can be filled with remote workers, it will be a win-win situation for everyone.
Can remote work lead to more economic equality?
A few months ago a Belgian startup asked us to find a backend developer within 2 hours of Central European Time (CET±2). We received an overwhelming response from candidates based in Lagos, Nigeria.
With almost 15 Million inhabitants, Lagos has a larger population than the entire country of Belgium (11,5 Million). Nigeria's unemployment rate reached an all time high of 33% in the beginning of 2021.
Our client hired one of the Nigerian candidates who is doing a great job. Consequently, the client recently entrusted us with an additional recruitment project.
When living in a place with high unemployment, remote jobs can be a great alternative (if not the only one) for those skilled professionals whose jobs are mainly performed behind a desk.
On the other end, when talent is hard to find, companies can fill these vacancies with remote workers from places where the situation is quite different.
Can remote work solve the refugee crisis?
Let's be realistic. Remote work will not solve migration problems entirely. War and climate refugees will keep moving and so will workers who perform manual labor. However, knowledge workers will not feel the need to leave their home country for economic reasons and can continue to contribute to their local economy with a foreign wage.
The money they earn will give them more purchasing power in their home countries which will eventually lead to creating more local employment.
Remote jobs have positive side effects for people with special needs
A business that operates remotely and attracts talent from all over the world automatically leads to more diversity. This statistically increases productivity and profit. The McKinsey & Company report published already in 2018 detailed that diversity outperforms homogeneity by 35%.
Whereas the geographical diversity is fairly obvious, inclusion also increases for people with special needs.
In France, companies pay large sums of penalties each year for employing an insufficient percentage of these workers. In a city like Paris, commuting to the office is a major challenge for a person in a wheelchair. Whereas in a remote company, the wheelchair user has an obstacle-free commute to their work environment (in their home).
But also other forms of special needs are more easily met in a remote setup: a person on the autism spectrum can focus on their daily routine, patients with chronic diseases can build their schedule around necessary medical appointments, and those who cannot get vaccinated due to health issues do not need to worry about catching Covid.
Whoever had difficulties adapting to the one-size-must-fit-all 9-to-5 work life in the past — for whatever reason — can now get a fresh start to join the workforce.
Remote work is inclusive work.
The future of work
Remote-first will be the new economic reality for knowledge workers. Employees and employers will benefit from a better work-life balance and higher flexibility.
Even if some businesses are still reluctant to implement it today, in the next few years they may no longer have a choice if they want to keep growing and remain profitable and competitive.
The remote setup will present new opportunities for skilled workers who are no longer artificially excluded from our markets through borders, work visas, or different needs.
So how is your business adapting for the future?