CTO coaching and mentoring for SaaS businesses
We train CTOs and engineering managers in the SaaS industry to become better leaders with the help of our CTOs in residence and CTO ad interim services.
Menu
The Chief Technology Officer is a key player in your growing startup. Having the right person in the right role is crucial for growth and setting the right strategic priorities.
By being the technical voice in your (management) team, our CTOs ad interim make sure the technical side of your business gets the attention it deserves. This is how we coach technical SaaS teams.
What is the role of a CTO in SaaS companies?
To build a software product, you usually need a team with many different roles, for example a CTO, a VP of Engineering, or a team lead. The different mindset and skills needed to fill these roles successfully, evolve as your product grows and, to be honest, most of the time you don't need all these roles on a full-time basis.
It's extremely hard these days to find the right person to fill in at the right times. Our experienced team can solve this by taking on a number of roles depending on your current stage. We have expertise as interim CTO, engineering manager, and VPoE.
In the early days, you probably need a tech-savvy hacker type of profile. While after the first successes, the main skills of the Chief Technology Officer change to being a visionary and strategic thinker. When the business is blooming, your CTO is now responsible for people management, process, and structure. It's very unlikely that the same person can fulfill this role during the transition of the business between these various stages.
Want to know more about the role of a CTO?
CTO coaching and mentoring
After auditing more than 60 startups and scaleups in the tech industry, we've often come to the conclusion that the right people are not taking up the right roles. Creating awareness around these vulnerabilities is one thing, acting upon it seems to be the hardest nut to crack.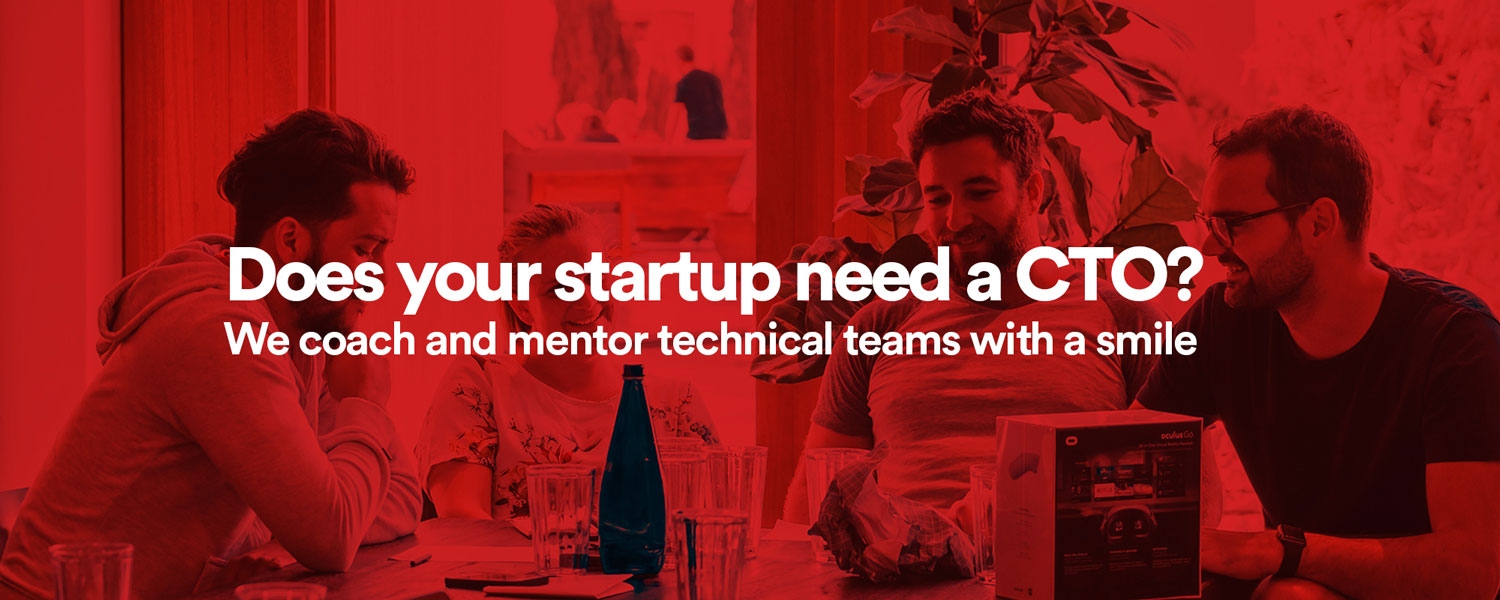 Therefore, we need to build trust in the technical teams first. We do this by joining the development team in the trenches and helping the business on a daily basis. With the help of our engineering managers and CTOs ad interim, we can slowly make changes in (technical) processes, improve documentation and workflows, and create a better development culture in general.
When the time is right, we train the people to take over our role as chief technical officer or engineering manager with hands-on guidance and programming techniques, upgraded tooling, and other processes tailored to your business needs.
Another difficult topic is hiring or offboarding, which is often uncomfortable and emotional. If needed, we can also advise you when taking the hardest of decisions – letting people go. Internal and external communication is a tricky thing to get right, but we have some ideas and good practices there. Our goal is to make the evolution of your team as smooth as possible.
Our in-house CTOs are ready to help
Do you need an interim CTO?
To answer the question, you need to look at the phase your product and your company are in.
Whether you are just starting to refine a new product idea or want to finally aim for that version 2.0, you need different solutions. And madewithlove can help with that.
The war on talent is hard. Hiring a CTO is a very challenging task. The good ones usually already have a successful career and are not willing to take a leap of faith by joining a new startup. But there are options: you can decide to work with freelance CTOs or agencies that offer CTO as a service. Or maybe your new CTO is already part of your team, you just haven't realised it yet.
We can plan out the right strategy to get your first customers going or we can help you manage technical debt and its growing pains.
Need a near- or long-term plan to scale technically along with the expected growth in usage? We can help you there too. Do you need a long-term technical vision? A clear view on how to evolve your team?
We can help with that too and if needed, we can even back it up with the right software engineers or product managers to bridge the gap while you continue your search for the right people.
What does madewithlove do?
Clients we helped with CTO coaching and engineering management
These are some of the companies we have helped with growing towards success.
Flexmail: Email Marketing solution
The madewithlove team works alongside us, treated our product with the love and attention it deserved and actively challenged us throughout the entire product development process. — Michelle Dassen (Head of Product)
Teamleader: CRM, project management, and invoicing in one simple tool
As a real transition-expert, Andreas helped us with creating the software. This wasn't an easy task because our technical team had to grow alongside the number of clients. — Jeroen De Wit (CEO)
3D Aim Trainer: Best Game to Test & Practice your FPS Aim
Madewithlove helped us build the blueprint, not the house. Advice was given in a fair and direct way, while keeping room for discussion and without pushing personal preferences. — Robin Haegeman (CTO)
And many more
Click the logos to see these great products we helped build
Must reads about CTOs in tech startups
Jump on a call with Andreas

To check if we can help with CTO coaching & mentoring

Want us to be your CTO ad interim? Arrange a free, 30-minute call with Andreas to find out how we can help you. There's no commitment—we just want to understand your needs.
We're getting booked up pretty quickly, so the sooner you get in touch, the sooner we can help you…