Team building is an important part for any company and maybe even more if the team you're working with is spread out over the globe.
It was the first time I would meet my foreign colleagues in person and I was really looking forward to it! Hanging out in person still beats virtual hangouts of course.
So let's start at the beginning.
Our awesome office manager AJ organised the entire thing, from the place where we would stay, flight schedules, food to… a surprise activity!
Even the location of the retreat itself was kept a secret until a month ago.
So she definitely did a good job keeping it a secret for that long.
Divided in two teams we would meetup at the airport in Barcelona and from there on each team would drive to the retreat location.
After two hours our team arrived at a small village and after crossing a couple of small streets we entered the retreat grounds.
A wide wooden entrance lead us to a big authentic Spanish mansion! The owner greeted us and immediately started with the mansion tour. It really was something alright!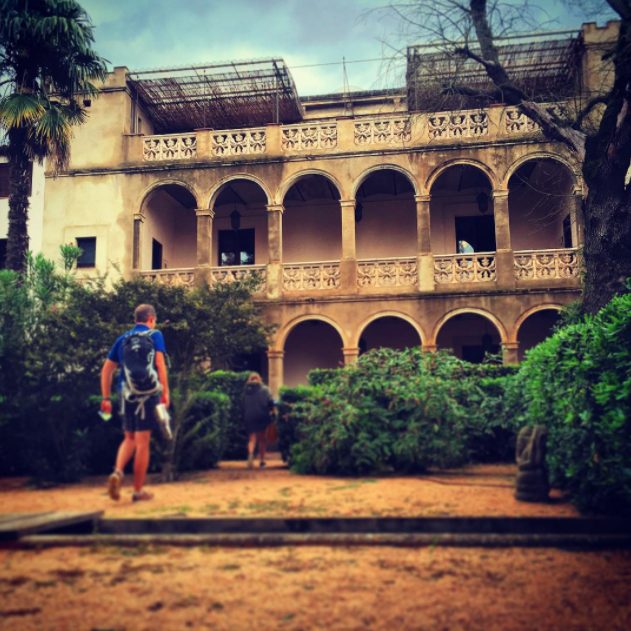 And what could go better with a big Spanish mansion than some real Spanish tapas!?
Retreat activities
The following days always started with breakfast, then presentations and then lunch.
So it was a bit like having a small internal conference every day.
Andreas kicked off the first day with his past, present, future presentation, which shed some light onto the existance of the madewithlove logo and some very neat future plans and wonderful news!
The other presentation topics that were brought varied from technical to practical topics such as working remote, Elasticsearch, talking in public, graph databases and so on… Each one of them was interesting in its own way and made me learn a bunch of new things.
In the afternoon we were didn't have a predefined schedule so we could play pingpong, take a dive in the pool, or just get to know everyone a bit better.
Day one was the warmest day, so the entire afternoon was spent by/in the pool. Water games, swimming and capturing it with a gopro included.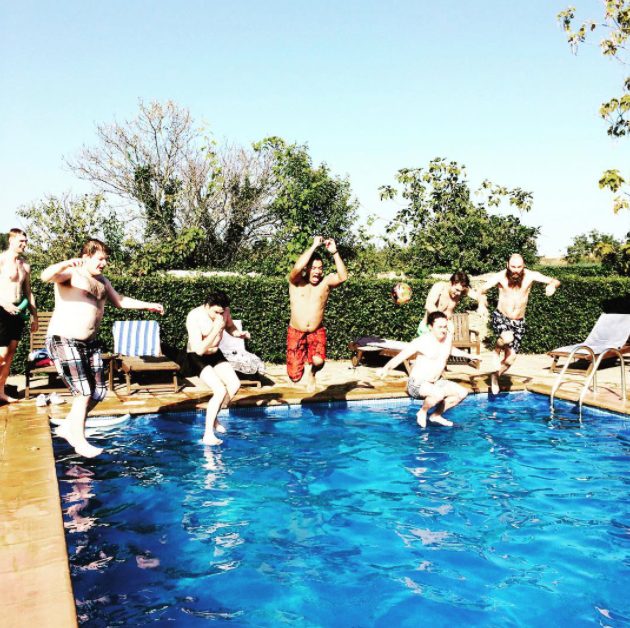 In the evening we held a barbecue feast at the outside dinner table with a nice lit up fireplace. A few hours later we moved the party to the common room where we played some party games and enjoyed some of the treats that the fellow colleagues brought along from their home town/countries.
The idea behind it was that every treat was some sort of local specialty from that colleague's home country. So there was Belgian beer (duh), Cachaça, candy and so on.
I decided to bring something little bit different and baked a big loaf of banana bread instead. Needless to say there wasn't a crumb left behind.
And one colleague even brought handmade gifts for everyone!
On the third day of our stay, one of the companies we've been working together with very closely for the last couple of months came over. We spend the day talking about future improvements, had dinner and shared a couple of glasses of wine together.
Surprise surprise!
The next day was the big day! The last of the presentations would take place and after that the surprise activity which we still hadn't got a clue about.
All we knew was that we had to give our clothing and shoe sizes, it might involve water and it would be within the range of half an hour from the mansion.
Once arrived at the spot two guys in flashy green t-shirts and swimshorts were awaiting us. They revealed that the surprise activity was nothing less than water trekking! Everyone received a wetsuit and a safety helmet before we headed over to the nearest river.
I was feeling pumped because this was a totally new experience for me and I didn't really know what to expect. But damn! That was a neat surprise!
The only thing that was a bit unfortunate was that the days before it literally poured rain out of the skies. So the water of the river was brownish and you couldn't see where you had place your feet. The river was filled with rocks and big branches and here and there a tree fell over so you had to climb over or under it.
So on with the journey through the river until we came by the first small clif. All of us climbed up and then we could jump down again into the water. Some of the daredevils immediately went back up again to have another go.
In total there were four jump spots and I skipped two of them. Because I'm actually afraid of heights. :)
But I do admire my fellow colleagues who took that last jump though! It must've been 5 meters down or something!
The last meal
That jump also meant the end of our adventure! We headed back to the mansion for a nice hot shower and some dry clothes. Which never felt so good than after that cold river water!
A bit later we headed out to Girona to share some big juicy burgers as our last team meal.
Five wonderful days with an even more wonderful team! I can honestly say I enjoyed every minute of it!
madewithlove rocks!