Services for accelerators
One of madewithlove's company values is sharing is caring. Our goal is to get your team selfstanding as quickly as possible.
Menu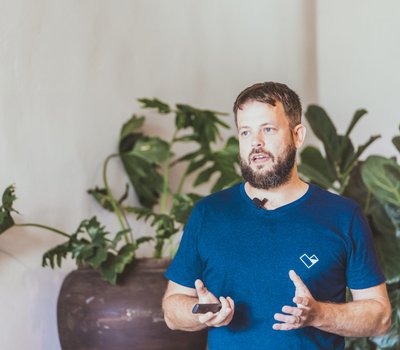 To do this, we share information and knowledge abundantly. This is the reason why we developed an offering for accelerator programs, so we can help boost the knowledge available for their startups.
Reach out to Andreas
Having all the answers for every startup is impossible. It takes a team of experts to provide as much advice and help as possible to ensure that new ventures succeed. We want to share our knowledge via office hours, free talks, workshops, and audits. Check below to discover easy ways to bring greater value to your startups.
Office hours
Startups can have questions on a wide range of topics for which you don't always have the answer.
Imagine you had a partner on the side whom you could turn to for a quick question — someone who could point you in the right direction, provide you with interesting resources on the topic, or someone who could just listen and give feedback on your idea.
Madewithlove can provide access to a team of experts that can answer most (if not all) questions that are within the scope of a CTO's responsibility, from executive to engineering.
Pricing
On-call: € 150 / hour
Billed in time & material and reported monthly
For the duration of a cycle/program (minimum 3 months)
€ 500 / month (max 4 hours)
€ 1.200 / month (max 10 hours)
Minimum length of a call is 45 minutes
Knowledge sharing
We've been working with startups and scale-ups for as long as we've existed. In order to give back some of the things we've learned along the way, you can also invite us to your events as:
Keynote speaker
Member of a jury
Moderator for panel discussions
Demo days or introductions to technology
Pricing
Free!
We see this as an opportunity to help your community thrive.
Workshops
Madewithlove can provide workshops in a wide range of topics:
Product management
Software engineering
Building your culture
Remote working
Human resources
These can be booked as single workshops or as a multi-month program in which we guide the startups by building their own company and product.
Approach
We send out a survey and do intake interviews with each startup prior to the workshop. This step allows us to adapt the content to their needs.
The workshop itself will be split into theoretical and practical help. After the workshop, we'll organize a follow-up session with each startup individually to see what they were able to do with the knowledge that was gained.
Pricing
€ 2.000 / workshop / 5 startups
We limit the attendance per session to 5 startups to provide an optimal space for learning and practical help.
Audits
Madewithlove's audits are an excellent way to have a neutral party evaluate the true state of things and give recommendations on the future.
Our audits look at 5 pillars of your startup:
Team and leadership
Process
Engineering
Written communication
Problem and solution
By requesting an audit, a startup will also be able to evaluate if they are on the right path to raise money in a later phase.
Pricing
€ 3.500:
up to 4 interviews and a small code review OR a full code review and 1-2 interviews
concise report
€ 5.000
:
up to 8 interviews
full code review
extensive report
The deliverable will be a report highlighting the 5 pillars and a debrief with the founder(s).
Find out how we can help with a due diligence audit or coaching
We're getting booked up pretty quickly, so the sooner you get in touch, the sooner we can help you…